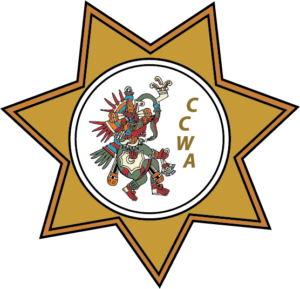 CCWA History and Mission Statement
The History of the Chicano Correctional Workers Association
The idea of the Chicano Correctional Workers Association (CCWA) was originally thought of in the late 1960's. At first, 3 to 4 people from the Paroles Division in Riverside County would meet to discuss how to help each other Promote. As word spread of these meetings, others joined from inside the Institutions. Employees from San Quentin, CMC, Folsom and CTF would pile up in a van and head down the 99 to Riverside County. By 1970, there were close to 100 people attending a meeting which at the time was held in a member's garage In Claremont, California. In November of 1972, Articles of Incorporation were drafted, submitted to the Secretary of state, and later approved thus officially incorporating CCWA.
The Founders of CCWA, chose Quetzalcoatl, Aztec God of Wisdom and learning As the Association Logo encased in a correctional badge to bind our goals and our Legacy. Our motto "Somos Familia ~ We are Family" was chosen by our founders because they invited ALL who were concerned with the lack of opportunity, Disparaging work conditions and selective hiring in the department. CCWA was conceived as a family, a family of advocates for those who seek Career opportunities within corrections. CCWA dedicates itself to being an Advocate of equal representation and upward mobility for career development for all members. CCWA prides itself on helping our members and communities, as well as giving back to our youth in yearly scholarships. CCWA has grown immensely over the past 50 years into an organization with a combined force of 19 Active Chapters and over 1,700 members up and down the State of California. CCWA has established itself as a Bona Fide employee Organization by the state of California. CCWA continues to welcome all persons Regardless of age, sex, color, religion, natural origin, political affiliation, ancestry, marital status, sexual orientation, or disability.
To this end, The Chicano Correctional Workers Association and its members continue to lobby and advocate for better training and more opportunities for employees in the California Department of Corrections.
CCWA has been and continues to be the fastest- growing organization in State service. The Organization has sponsored training conferences, workshops and seminars to expand the knowledge, skills and professionalism of its members.