CHICANO CORRECTIONAL WORKERS ASSOCIATION (CCWA)
ASSOCIATION OFFICE ELECTIONS NOW OPEN ~ EFFECTIVE SATURDAY, May 1, 2021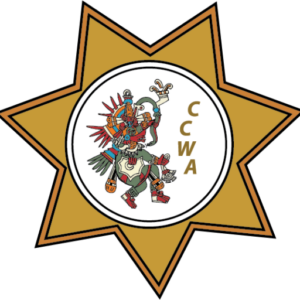 Interested in making a difference and creating change in your Association, now is the time to submit a Letter of Intent for the board position you are seeking.
BOARD POSITIONS AVAILABLE:
Association President
Association Regional Vice President (Northern, Central and Southern Regions)
Association Secretary
Association Treasurer
Association Sergeant-At-Arms
You may download a Letter of Intent via our CCWA Website (CCWA.NET)
DEADLINE: Please complete a Letter of Intent and submit/postmark by Saturday, August 14, 2021 to:
CCWA
ASSOCIATION ELECTIONS
P.O. Box 3680
Visalia, CA 93277
If you have any questions, please contact:
H. Ornelas III, Association Sergeant-At-Arms via email at hornelas@ccwa.net
M. Pina, Association Parliamentarian at parliamentarian@ccwa.net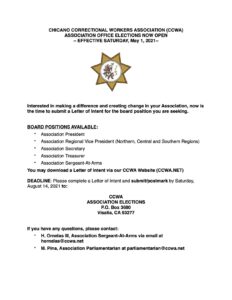 The best way to enjoy the numerous benefits offered by CCWA is to become a member. Proudly Serving over 1700 Members.